Today's Wedding Wednesday is reaaallllyyy exciting-INVITATIONS!
From the beginning, this was one of the decisions I was most excited about, and I could not be happier about how our invitations turned out! AH! I may have actually cried when then came in and I finally held one in my hand… But I'm getting ahead of myself, let me start from the beginning.
One of the first stops we made with our wedding planner, Amanda Reed, was to Shindig, the absolute cutest paper shop I have ever seen (Go check out their insta here and you'll see what I mean) and I was in heaven.  Trisha, Amanda, my mom and I sat at a table and began the hunt.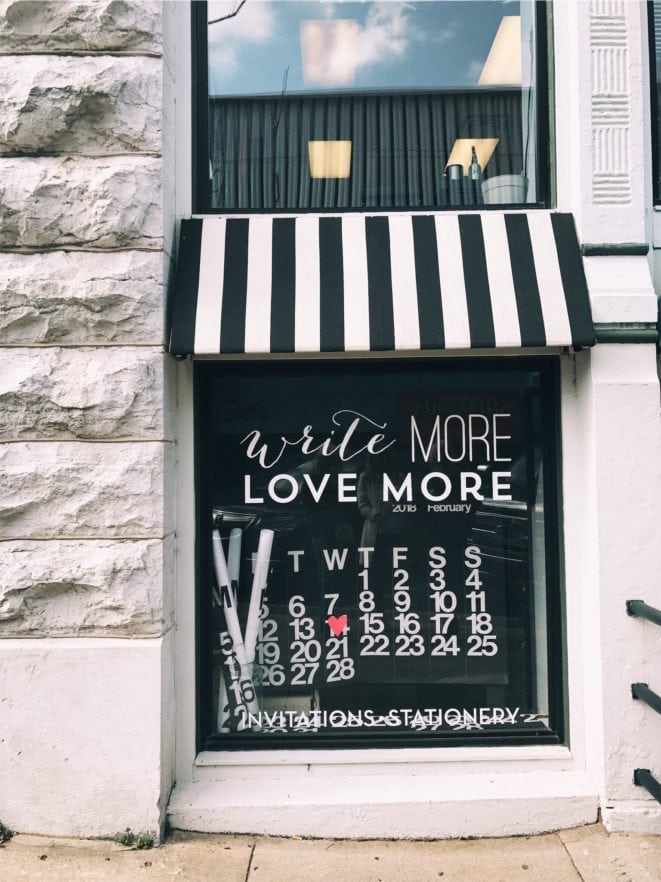 How in the world do you decide what kind of wedding invitations that you want?
For me, it came down to what I felt best represent Nate and myself, while also being some what of a sneak peak to what our wedding will look like! With some of the hints I've shared with y'all before – our wedding have an industrial garden vibe (insert grin), so I knew I wanted our invitations to be modern while still holding some traditional aspects.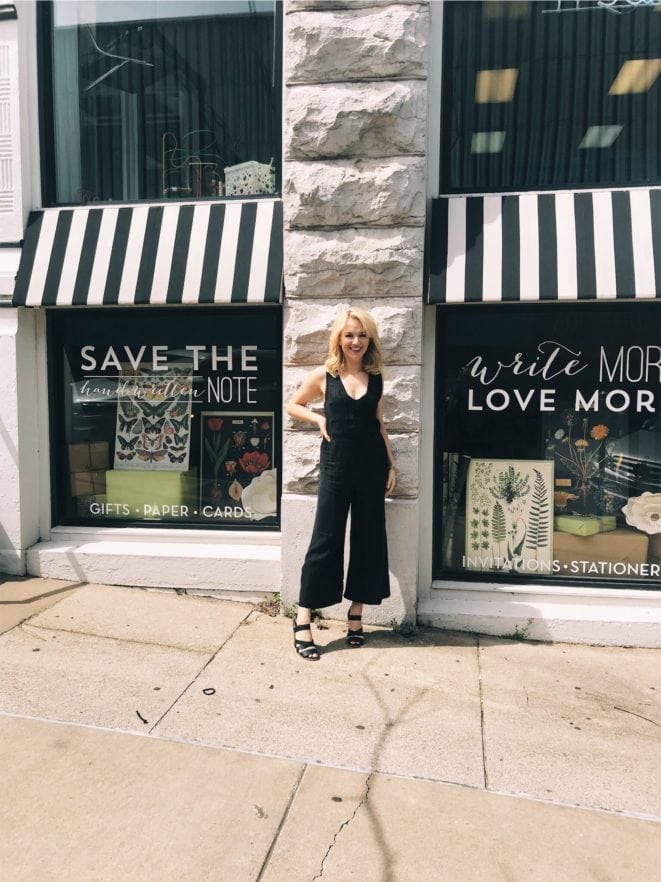 I am also obsessed with this romper from Maude. COME ON SUMMER.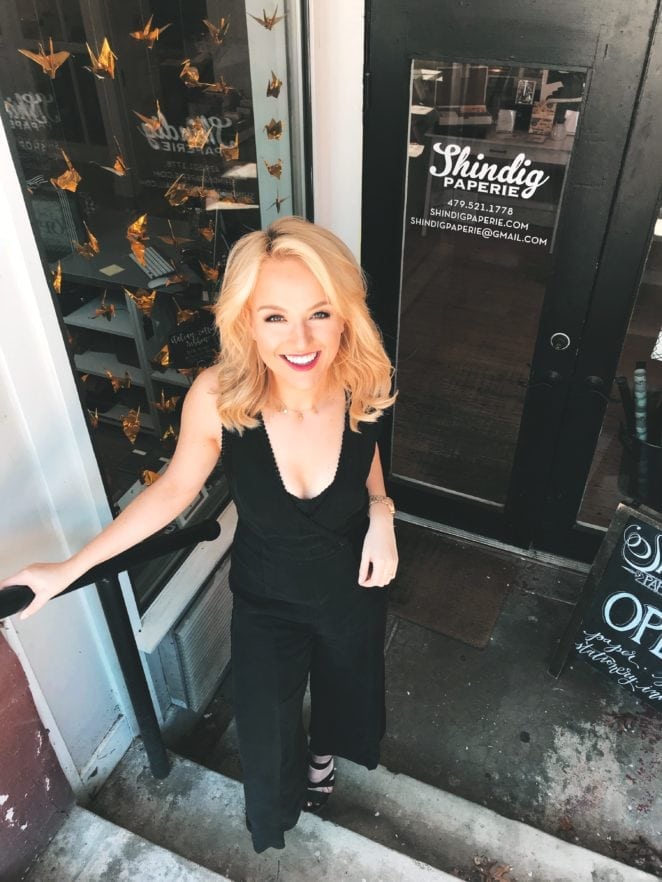 Ya'll, the number of invitations we looked at… Shindig had so many different styles, fonts, colors, textures, prints, ideas, and I was falling in love with every single idea!!
After narrowing it all down, we finally choose our favorite one and I could not wait to see them in person.
Photographed here smiling ear to ear after seeing the most perfect invitations in person:)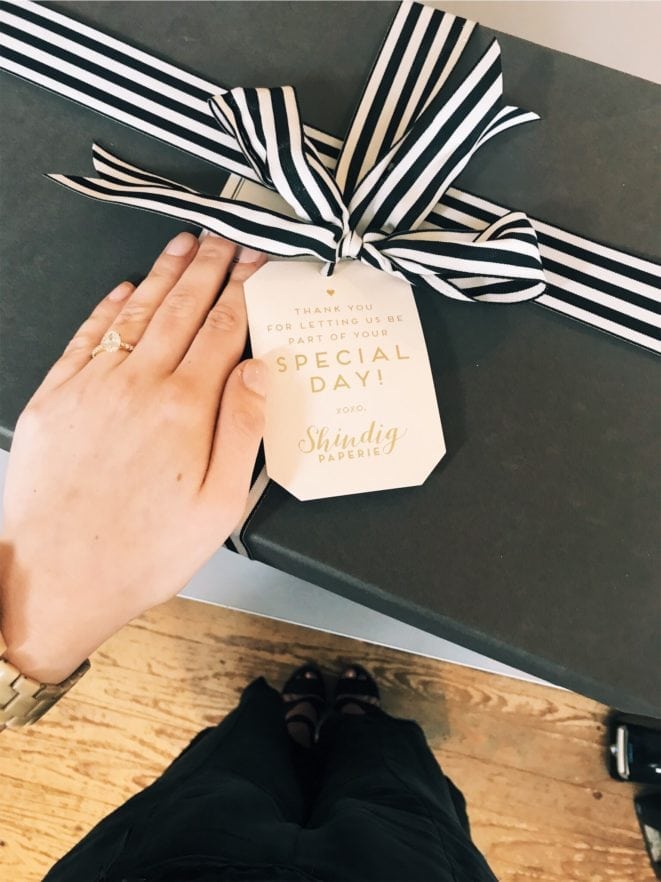 The sweetest packaging for our invitations that I picked up from Shindig!
I can not thank Shindig enough for being so unbelievable in this entire process. They helped bring our vision to life while being the sweetest humans of all time. Check out their website here:
Now I will for sure show you all the entire invitation in time, but for right now I'll give you all a sneak peak of our beautiful invitations!!!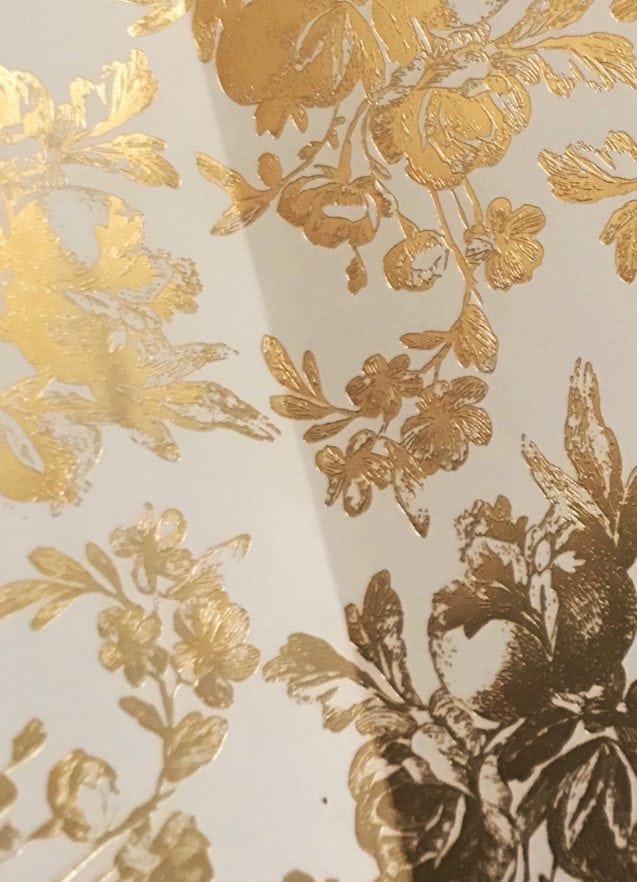 The gold foil flower print kills me every time I look at it, and just wait til you all see whats inside… Shindig slayed.
Until next week!
So much love,