Is celery juice the new black?
_____
I saw one of my friends post the above comment and I lost it! While yes, it does feel like everyone is hoping on this bandwagon and that celery juice may just be the new trend – BUT, three weeks of doing it and I can not imagine my life without it.
I first heard about the celery juice phenomena from KarBear, who saw it from one of her favorite health IG accounts @medicalmedium. This account shares lots of health tips and facts, along with helpful information about what celery juice does. This picture below was the one that got me really interested: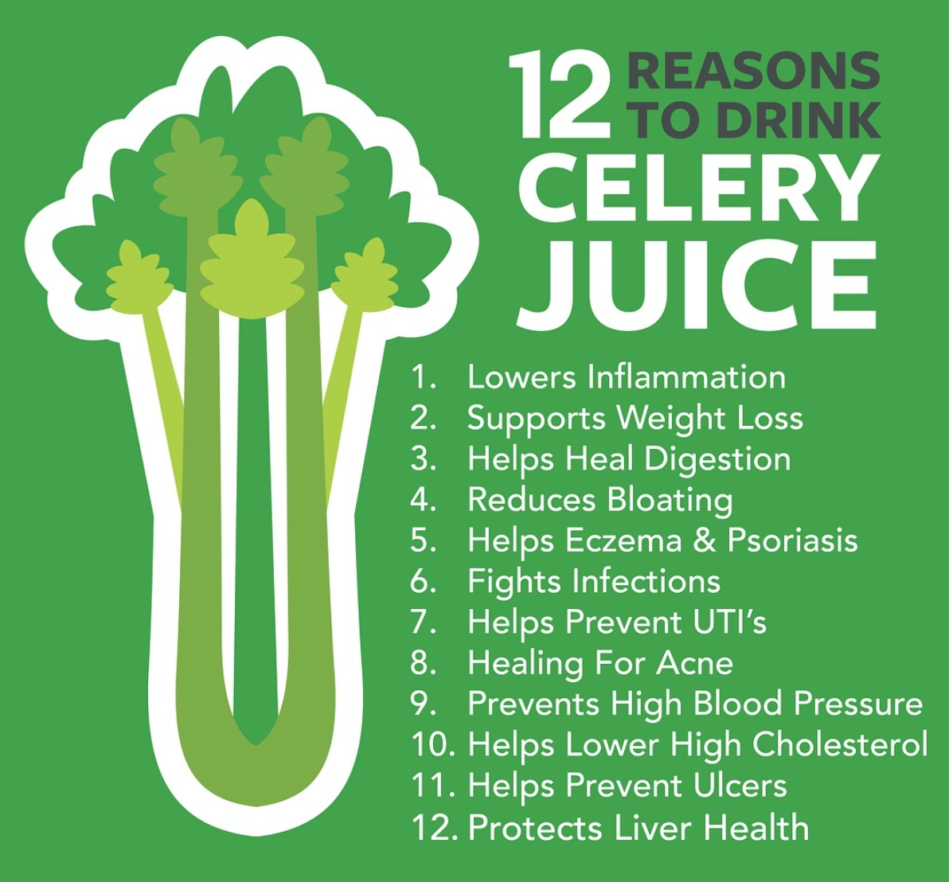 After seeing this I thought, "what do I have to loose", and the celery juicing began.
The first day I tried it, the taste high key freaked me out/ low key felt like I was drinking bitter water. So the next few days I added  half and apple so I could get used to the taste, and after three days waved off the apple and went plane Jane celery juice.
Week Three of celery juice and wow, wow, wow. Here are my side effects:
Energy levels through the roof! I could tell from the very first day that my energy levels were different. There isn't an afternoon lull, I have more energy when I am working out, and right when I wake up I have energy! I don't have to wait til I have coffee to start speaking to Nate.
I crave other healthier food throughout the day. Sugars and carbs felt less appealing, and I wasn't grabbing snacks all the day long.
No more bloating! Which felt great!
Brain fog was gone. After day three my brain was thinking more clearly and I wasn't burnt out at the end of the day.
My skin was clear and hydrated!
Anxiety lowered
sleeping so much better
no inflammation
Now here are some other effects that I can't tangibly see but are still there:
lowers inflammation
helps eczema
fights infections
protects liver health
prevents high blood pressure
prevents migraines and headaches
relaxes nerves
protects against cancers
So hi, hello, yes celery juice please!
Another great quote about celery juice: "Celery juice is an alkalizing, enzyme-rich, electrolyte-enhancing, liver-repairing, blood-sugar-balancing, antiseptic, strongly alkaline & anti-inflammatory drink."
Now onto questions!
WHAT JUICER DO I USE/RECCOMED: 
Nate and I use the Omega 8006 Juicer! It is a bit of an investment, but we love it and use it daily! We've had zero issues with it, and most importantly it is so easy to clean. I have found with lots of juicers the main complaint is how ridiculous they are to clean and manage every day. I am so thankful we got the one that we did! It has been so easy to maintain, creates great fresh juice without ever getting stuck, and I can clean + assemble it in under 3 minutes (PRAISE THE LORD). It is 100% my favorite thing we got from our wedding registry! You can also get it from amazon prime for a little cheaper here: Omega 8006 Juicer on Amazon
This one is the newest addition and most expensive: Omega 8008 Chrome Masticating Juicer – it gets amazing reviews on all platforms!
Here are some cheaper ones I found that had good reviews (again, I have not used these and can give my 100% recommendation, I still love the first one I shared- but these look good):
DO I HAVE TO USE A JUICER? 
I have only ever used a juicer BUT, I hear many many people use blenders to make their juice! You wash and cut up the celery into smaller pieces and then blend the celery into a smoothie, then strain it through a nut milk bag! I have not tried this way but I see a lot of friends doing it and it seems to work, it defiantly takes more time (because of the staining), but same result!
Here is the blender I use to make all of my protein smoothies: NutriBullet (it is also under $50!)
Recommend Nut Milk Bags: Amazing Organic Cotton Nut Milk Bag
HOW DOES IT TASTE?/DO YOU GET USED TO IT?
First time I ever tasted it, I was not a fan… I could not even drink more than a few sips. But I wanted to see if the hype was real, so I continued to drink it every morning. Day two, still not my favorite thing in the world. Day three, wasn't hating it. But heyo day five happens and I woke up craving it. I could feel my mind automatically get clearer after drinking it, felt more energy, and my body craved the way it made me feel as well as the taste!
WHAT IS THE CONSISTENCY
Once juiced correctly it is the same consistency as any apple or orange juice! (It is not thick.)
CAN YOU TELL A DIFFERENCE IF YOU MISS A DAY OR TWO
ABSOLUTELY! If I miss one more I can defiently feel the difference towards the afternoon, I would get very tired and my mind would feel foggy.
DID YOU BREAK OUT AT FIRST?
Once I started having celery juice in the morning my face cleared up RIGHT AWAY. Then one day I had some very sugary foods and found some breakouts the next morning…..oops. Next day I was back on the celery juice and clean eating train and my face cleared right back up.
WHEN DO YOU DRINK IT
First thing in the morning on an empty stomach, then I wait 15 minutes to eat breakfast! I started drinking around 8 ounces a morning and am slowly working up to the full 16!!
HOW MUCH CELERY DO I USE 
I will juice about 2 bunches of celery every morning and that makes 2 drinks for Nate and I both. Cut off the ends of the celery, leave the leafs if you want it to be bitter, wash the celery, add an apple if the taste is too much, juice it, shablampow.
DO I GET OTHER BENEFITS FROM OTHER JUICES 
Of course! Each vegetable and fruit is going to give your body new and different vitamins and nutrients that it needs, and every different kind of juice is the same!
________________
SO hype. So healthy. Love finding new things and new ways to feel better! And I am excited to hear all your celery juice stories!
Much love,