If you would have told me a month ago that I would voluntarily go on a run, there is no chance I would have believed you.
Running for me has always been such an insecurity. It is awkward, I feel uncoordinated, I know for a fact that I breathe way too loud, I am slower running than the people are walking, and I may or may not start crying half way through any given run.
I have this thing where if I am not good at something, I don't want to do it. This is true not only for running, but for most things in life. It is not cute. It is a trait that if not checked, could lead me down a path that results in a life not lived to the fullest. Doing something uncomfortable that challenges and pushes myself is key to my growth. I believe developing this habit also gives us skills and muscle memory to take challenges head on when we face trials in our lives.
Alright, now that we have had our emotional moment of the day, let's get back to the hilariousness that is #runnergirl225.
I wanted to share my insecurity with you all so that if you have the same fears, you can know that you are not alone. Nate and I started running about 2 months ago, and despite the aforementioned heavy breathes and mid-run tears, I have found a way to make slow but steady progress. The general concept is to run 1 mile every other day and on the days in between to incrementally increase the distance. Below is a template for how it looks:
Day 1: Run .5 miles out and back while stopping after the first .5 for a little break (1 mile total).
Day 2: Run .6 out and back while stopping after the first .6 for a little breach (1.2 miles total).
Day 3: Back to running .5 miles out and back while stopping after the first .5 for a little break (1 mile total).
Day 4: Run .7 out and back while stopping after the first .7 for a little breach (1.4 miles total).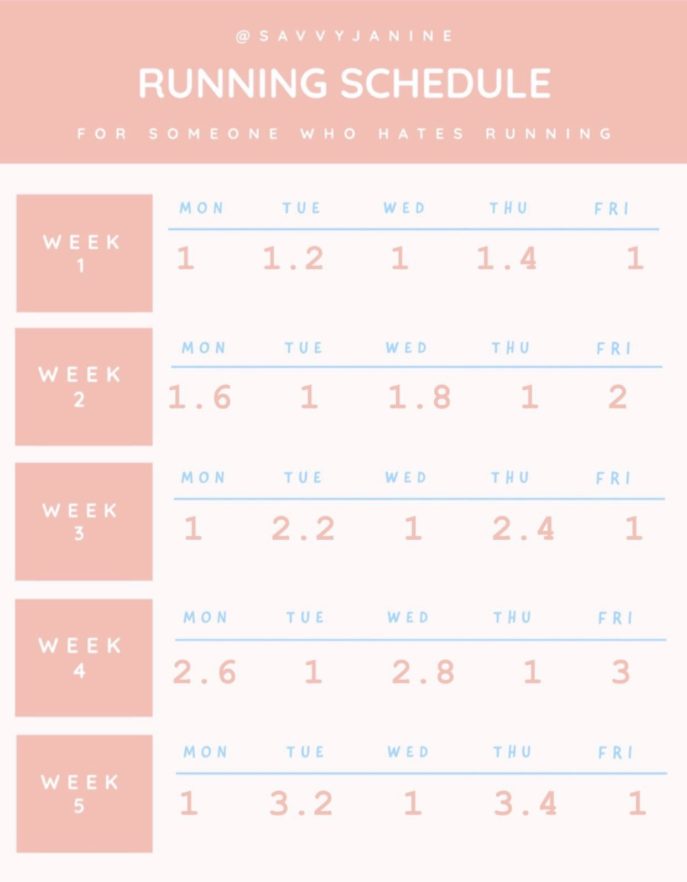 I remember day 1 when I was scared to run half a mile and could never envision the day where I would be able to run a full mile without stopping. Today, I am smiling as I share with you all that yesterday we ran 4 miles without stopping. EEEP. Now, was it really hard? Yes. Did I start crying the last mile? Also yes. Was I going slow? Yes. But I did it! And the effort is all that matters. (Trying to remind myself of that always.)

I still don't feel 100% confident in running, but I am feeling stronger everyday and most importantly, I am starting to enjoy the discomfort in trying new experiences that are outside of my comfort zone.
Excited to see you all along in this journey! Let me know below what ways you are pushing yourself!
Much love,